CAMPSITE
Home > Campsite > About > Campsite
Campsite
Campsite
You can enjoy camping, cooking, recreation and picnics at Seoul Grand Park Campsite with fresh air and the luxuriant forest of the Cheonggyesan Mountain.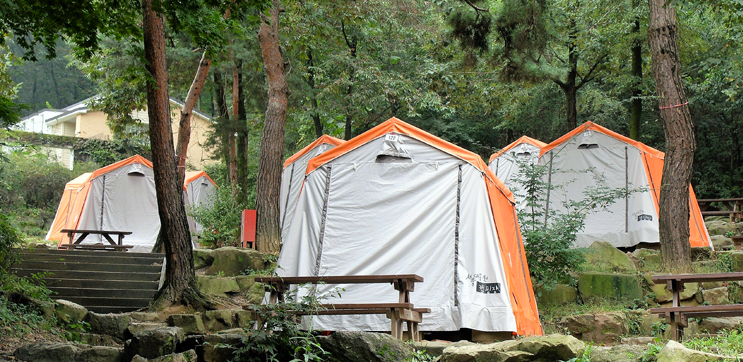 Look around Campsite of Seoul Grand Park.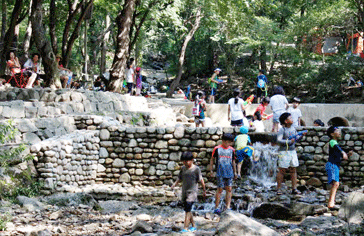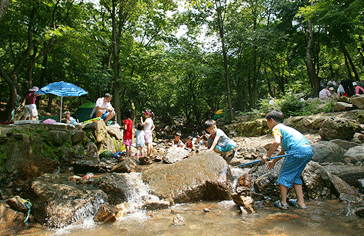 Transferring, exchanging, and trading of tents is prohibited.
If the registered tents and tents that are used are different, check-in can be restricted.
To establish a healthy reservation culture, tents should not be transferred, exchanged or traded.
The maximum number of tents in one order is 30 tents. (Elementary, middle, and high schools that want to reserve more 61 tents should contact us in advance)
Breaking the rules can lead to cancellation of the reservation.
Operating period
: May 15 - November 30 (The dates can be changed according to the condition of the campsite)
Instruction and Operating Hours
There are two ways of using campsite - Day Use for Picnicking Only and Camping.
Please make sure you read the following instructions thoroughly.
Instruction and Operating Hours
Who Can Use It
How to come in
Operating Hours
Day Use for Picnicking Only
People who want to go to picnic and cook, but will not use tents
Reservation is not required. If you purchase admission tickets, you can use the campsite.
09:00 ~ 19:00
Camping for a day or more
People who want to put up tents on their own or use rental tents for one day or more for camping.

Admission after 17:00 pm requires Internet booking one day in advance to buy admission tickets.

Available from 09:00

Tents are available from 13:00 pm to 11:00 am the next day.
If you enter the campsite after 17:00 pm, you should buy an admission ticket a day ahead online as admission ticket are not issued after 17:00 pm.
After an identification check, tents will be assigned.
Shop
You can rent sleeping bags and grills, and buy pork and vegetables
※ The shop is operated separately from Seoul Grand Park Campsite.
Garbage Management
You should use standard plastic garbage bags for Seoul Grand Park that can be purchased from the shop, and discard them in the designated place.
Notice
Seoul Grand Park (Seoul Grand Park Campsite) is a no smoking zone. Penalty will be imposed for breaking rules.
Besides cooking utensils and a picnic mat, other individual facilities including tents, tarps, screen fence, and mosquito nets are not allowed.
It is recommended to use public transportation or the parking lot in Seoul Grand Park, due to limited space and congestion on the entrance road of the parking lot.
Pets and bicycles are not allowed.
Drinking, singing and dancing with a loud voice and gambling are not allowed.
When you use charcoal fire, you should use the grill to prevent fire. Cooking near the streams in the valley is not allowed.
Group campers should not use karaoke machines, buffet services, and/or excessive amplifiers.
Please refer to guide on 'Reservation for Seoul Grand Park Campsite,' 'Purchasing Admission Tickets for Seoul Grand Park Campsite,' and 'Reservation for Sports Field.'
Campers should not use electricity on the campsite. Unauthorized use of electricity in facilities such as the toilet will lead to penalty and removal from the campsite.
Inquiries
Inquiries

| | |
| --- | --- |
| Seoul Grand Park Campsite Visitor Center | 02-503-9985, 02-500-7870 |
| Landscape Division | 02-500-7551 |
| Shop | 02-503-9983 |
| Parking lot of National Museum of Contemporary Art | 02-3418-4441 |