SEOUL ZOO
Home > Seoul Zoo > Forest Bathing at the Zoo > Forest Bathing Park
Forest Bathing Park
Refresh your energy in the forest in Seoul Grand Park
Situated in the natural forest of Cheonggyesan Mountain surrounding Seoul Zoo, the Forest Bathing Park has about 470 species of vegetation, including pine trees, wild pear trees, Mongolian oak trees, and ginger plants living in harmony with squirrels, hares, weasels, and raccoons. With about 35 species of birds including Pheasants, Scops Owls and Grey-headed Woodpeckers co-existing in the park, it is an incredible natural place for education. It is also composed of four different zones with a total of 8 kilometers of paths, including uphill and downhill trails.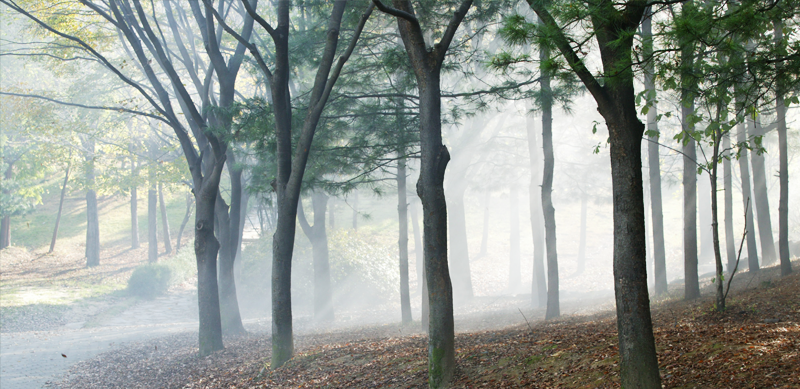 introduction to Forest Bathing Park
Depending on which trail you choose, it may take from 50 minutes to three hours to enjoy forest bathing. There are 11 rest areas with different themes, including 'Fairy Lake Forest' and 'Forest of Friendship'. In addition, you can walk barefoot on the trail for 450 meters located near 'Thinking Forest.' It is a fabulous path where you can step on the yellow soil barefooted, feeling the contact of soil on your feet,a feeling you may have forgotten over a long time. You can enjoy other beautiful resting facilities such as Ice Valley Forest, Mandarin Duck Forest, and the smaller springs too.
When you step into 'Thinking Forest,' untie your shoelaces. Then, you may avoid disturbing the birds joyfully singing in the trees in the early summer and walk carefully to one of the farm huts with straw rooves, and wipe the sweat off your face. Even the small springs have clear and clean water, filled with the sounds of plants and bugs. Being barefooted, you will feel natural in the forest. Turning your head to the right, you will see the peaks of Gwanaksan Mountains. In the backdrop, you can see the peak of Cheonggyesan Mountain, while squirrels and hares hop around looking for food.
Forest Bathing
Forest bathing is visiting a forest for relaxation with fresh air, mysterious harmony, and beautiful scenery while breathing in phytoncide, a volatile substance. It is similar to natural aromatherapy.
Phytoncides are antimicrobial volatile organic compounds derived from tress to protect themselves.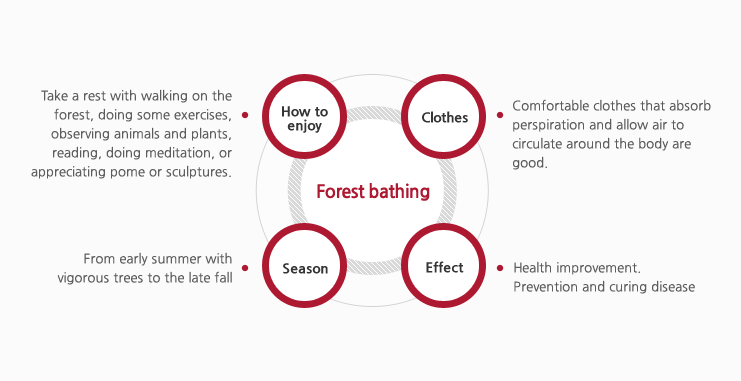 View Detailed Image
To enjoy forest bathing more effectively:
Forest bathing is effective while visiting a forest in the morning, especially from 10 AM to noon, because during that time a lot of terpene are emitted. You can walk, take a rest, do mild exercise, or take deep breaths to stimulate your body.