SEOUL ZOO
홈 > Seoul Zoo > Forest Bathing in the zoo > Forest Bathing Park Map
Forest Bathing Park Map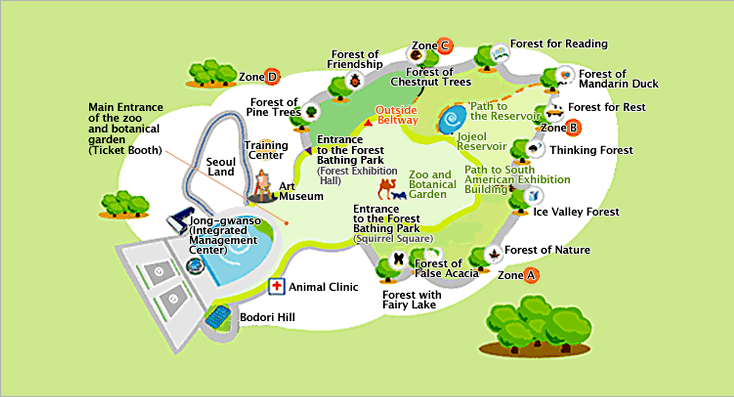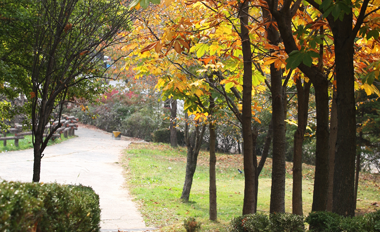 About the Forest Bathing Park
Operating Period :

Open year-round

Operating Hours :

09:00 ~ 18:00

Fees :

As long as you have paid for the entrance to the zoo, you are allowed to enter the park.

※ People with senior citizen identification are exempt from the entrance fee.
Course of Forest Bathing Park
Located on the mountain outside the Seoul Zoo, the Forest Bathing Park consists of four different zones with 8 kilometers of paths (6.9 kilometers of main road and 1.1 kilometers of branch road) and 11 theme trails including barefoot walking paths. It also has uphill, downhill and flat paths, so people can experience mild walking.
Course 1

It takes around 60 minutes to walk 2.2 kilometers of trail from the back of Australia House to South America Road.The course has Forest with Fairy Lake, False Acasia Forest, Forest with Nature, Ice Valley Forest, Motgol Hut and Songchon Hut.

Course 2

It takes about 50 minutes to walk 1.7 kilometers of road from South America Road to Reservoir Road via Thinking Forest, Resting Forest, Mandarin Duck Forest, Ice Valley Hut and Cheonggye Hut.

Course 3

It takes about 30 minutes to walk 1.4 kilometers of trail from Reservoir Road to Predatory Animal House via Reading Forest, Chestnut Forest, Manggyeong Hut and Bamgol Hut.

Course 4

It takes about 35 minutes to hike 1.6 kilometers of path from Predatory Animal House to Forest Exhibition Hall via Forest of Friendship and Pine Forest.